Launched in summer 2017, the Elmina Digital Archaeology field school is jointly operated by the University of Rochester and the University of Ghana as part of a multi-year multi-disciplinary comparative study of Elmina Castle, Cape Coast Castle, Fort Amsterdam, Fort William, Fort Nassau, and Christiansborg Castle. Participants earn six credits from the University of Rochester for completing the five-week program. The Field School is open to all qualified U.S. and international undergraduate and graduate students.
A Castle Is Your Classroom
Through fieldwork undertaken at Elmina Castle and Fort Amsterdam, the school introduces the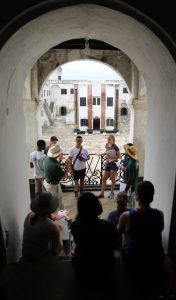 principles of archaeological excavation and structural diagnostics of heritage masonry buildings as we undertake a systematic survey of these sites using manual recording, photogrammetry, laser scanning, aerial drone photography, remote sensing, and field excavations to develop highly detailed digital reconstructions of select areas of the castle and fort. The school also fosters the understanding of the historical environment of Elmina Castle and Abandze, particularly the pivotal roles they played within the early modern Transatlantic world, and through visits to other nearby forts and castles to make comparisons. In addition, the field school provides students with a broader appreciation of Ghana's natural and cultural heritage through guided visits to select archaeological sites and national parks.
There are no pre-requisites. Students work closely with archaeologists, engineers, and historians with specializations in West Africa, historical masonry structures, and digital surveying and reconstruction techniques. The field school is well suited for undergraduate and graduate students in the humanities, social sciences, and engineering interested in acquiring skills in a multidisciplinary environment.
For blogs of 2017 and 2018 student experiences, visit the Discovering Ghana Site For a profile of the 2019 field school, visit Ancient Forts and the Legacies of Slavery
To apply, contact: Renato Perucchio, Director, rlp@me.rochester.edu